If you have a TMJ disorder, Dr. Carl McMillan and Dr. Ryan Hart may be able to treat your condition without surgery. We begin each treatment process with a thorough examination and tomography (X-ray) to determine the origin of your TMJ and the best services for your specific needs. If possible, our doctors may recommend an oral appliance to reduce pain and treat your TMJ disorder.
Oral appliances (also known as splints, bite planes, and orthotics) are mouthpieces that can be placed on the upper and lower teeth to reduce TMJ symptoms and discomfort. TMJ Therapy offers several types of customizable oral appliances. Two common styles that we offer are:
• The Gelb appliance, named after Dr. Michael Gelb, is a mandibular appliance that is designed to treat misaligned joint discs. This appliance compresses the discs into proper position.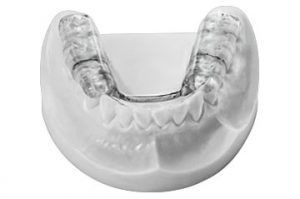 • The Mora (mandibular orthopedic repositioning appliance) can reposition the lower jaw to restore muscular balance. It utilizes acrylic bite pads that cover the molars and surrounding teeth.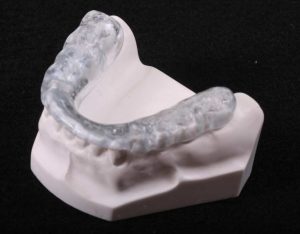 The length of time required to wear an oral appliance will be determined by our doctor.
Please keep in mind that your oral appliance is a tool, not a solution, and you will still need to see our doctor at TMJ Therapy on a regular basis for TMJ treatment. We invite you to contact our team at 801-756-0900 today to learn more about your options for dental appliances in American Fork, Utah, as well as North Ogden and Riverton.