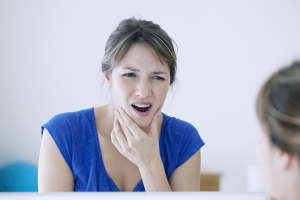 If you have seen many different doctors and therapist, have taken all sorts of medication, have tried all sorts of exercises and still experience persistent headache pain, TMJ problems may be suspected. TMJ disorder can cause many different symptoms effecting the jaw joint, ears, head, face and teeth. This can be a very debilitating condition. We at TMJ therapy strive to help our patients understand this disorder and come up with a customized treatment plan. Our doctor and team hate to see patients in pain and are here to provide the best treatment and therapies for your TMJ disorder. Please schedule at our office in American fork, Riverton or North Ogden, Utah, to get the TMJ treatment you need.
TMJ disorder, or TMD, develops when damage or injury occurs among the muscles, tendons, ligaments, blood vessels, and nerves of the jaw, head, and neck. There is no single cause for a TMJ disorder, and each case is unique. Not only are TMJ disorders painful and frustrating, they have a high potential for reoccurrence and re-injury.
TMJ is a progressive disease and the symptoms change over time, which means your treatment plan will also change. Your TMJ treatment plan will depend on your symptoms and the results of your X-rays, and each plan is catered to the individual.
Phase I of treatment is committed to addressing TMJ swelling and dislocation, muscles spasms, and pain.
Phase II is designed to correct any discrepancies that exist between the upper and lower jaws, and may include adjustment of the dental occlusion, orthodontics, reconstruction of the teeth, or a combination of some of the treatments listed below.
Treatments our Doctor may recommend are:
Splints, which are our clear plastic mouthpieces similar in appearance to orthodontic retainers, are worn on the upper or lower teeth to reposition the jaw, relax the muscles, or reduce the effects of bruxism. The length of time required to wear your splint will be determined by our doctor. Splints are not a one-and-done treatment; they need to be used as a tool in congruence with the knowledge of our doctor and with other therapy services. TMJ Oral Appliances
Regular office visits, which our team with help you schedule, will be necessary for orthotic adjustments, symptom progress, and in-office therapies. During your initial exam, our doctor will help you determine how often you need to visit one of our offices for treatment.
Medication, when used conservatively and properly, can be very beneficial to treating TMJ pain. Aspirin and ibuprofen are both highly effective in treating pain and inflammation. Muscle relaxants can also reduce pain. Antidepressants, when taken in low doses at bedtime, can reduce the brain chemicals that stimulate bruxism and interfere with sleep.
Daily stretching exercises can warm up and loosen tight muscles in the jaw, neck and shoulders. This technique can help reduce chronic pain caused by tight or inflamed muscles. Stretches
Massage therapy is helpful to many patients as a means to reduce facial pain and lessen symptoms. Our American Fork and North Ogden offices feature in-office massage therapists who can provide much-needed relief from TMJ symptoms with a variety of massage techniques. TMJ Massage Therapy
Ultrasound therapy delivers heat deep into sore and aching muscles to provide relief from TMJ pain. Our doctor offers TMJ ultrasound therapy in American Fork. TMJ-Ultrasounds
Take-home massagers, when used with RezziMax™ therapy techniques, can help relieve chronic pain between visits to our offices. These powerful massagers target problem areas and calm the nervous system.
Daily relaxation CDs can help you calm your mind and reduce any stress that may be contributing to your TMJ disorder. We invite you to take time each day to meditate and listen to a relaxing CD to effectively manage your stress levels. You are welcome to ask our team for recommendations.
If you suspect you may have a painful or damaged TMJ, Dr. Carl McMillan and our team encourage you to visit TMJ Therapy. Our doctor will be happy to perform a comprehensive exam to diagnose your TMJ disorder and, if needed, provide customized TMJ treatment in American Fork, Utah, North Ogden, or Riverton.